Free Must Have Apps When Visiting the Emerald Isle
Currency converter app for Euro
Currency rates are often confusing
Try using a currency converter such as XE Currency.  Convert your currency to euro or sterling (and back again).
The XE app even works when the internet doesn't. Wifi isn't readily available off the beaten track in Ireland!
Ttourists traveling from outside the eurozone will find this helpful 

Travel Apps for Ireland Transport
Try using the city's public transport network.
For bus, rail and tram services that cover everywhere you need to go but cost very little.
The Real Time app is shows you routes and suggests modes of transport, including tram, rail and bus routes.

Ireland Taxi Apps
Watch out for the sheep!
Taxi apps such as Uber and Free Now are not commonly used in Ireland. 
Order a taxi for now or book in advance. You can track your drivers arrival and share information about your trip details with friends, letting them know when youve arrived safely.
Entertainment & Nightlife Apps Ireland
Entertainment.ie is the Irish go-to for news, events, cinema listing and festivals. It's Ireland's most popular entertainment guide.
Every single cinema screen in the country is listed as well as 7,000 venues featuring music, clubbing, comedy, theater and lots more. The service is location based and in real time.

Sports Apps for Ireland
Looking for Irish Sporting Events? The GAA app is perfect. This official app gives you everything from results to photos and information on tickets and venues.

The usual suspects - Booking.com, Hostelworld and Airbnb - are great to have downloaded.
For a unique experience, try Ireland's Blue Book. This is a collection of quality Irish country house hotels, castle hotels and restaurants. Located around Ireland these charming and stylish hideaways are the perfect way to begin or end a Vagabond or Driftwood tour in Ireland.
A handy app for all things Ireland, including accommodation, is the Ireland Travel Guide.
IRELAND TRAVEL GUIDE ON ANDROID

Eating and Food Apps in Ireland
There are so many great restaurants to discover in Ireland. From traditional Irish food to fusions of Irish and world renowned flavours.
The Lovin.ie app points you in the direction of the best local grub and provide you with great content about Irish culture in general.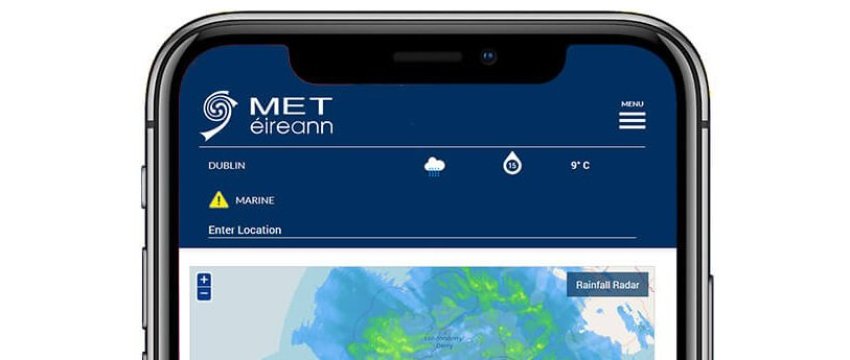 Irish Weather Forecasting Apps
You'll discover that the weather is a big topic of discussion for Irish people!
An Irish day can change in a heartbeat! So Ireland's meteorological service are the best people to chat to when it comes to weather.
Remember, there's no such thing as bad weather, only bad clothes!